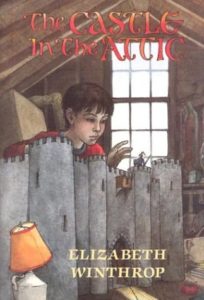 The word on the street is that some kids don't like to be encouraged to read books. I never had that problem, or if I did, I don't remember it. Betsy Hoke told me to read this book, if I remember correctly. She made me read Bridge to Terabithia, too. That's the first book I remember crying to.
Anyway, The Castle in the Attic. It has been a long time since I read this book, but here's my recollection: This book starts out with a slightly whiny protagonist. He's borderline annoying. A person very important to him is moving away, and he's being left with a toy castle.
But then, as is common to great books, the toy castle is not what it seemed. Adventure ensues. If you have a boy aged 7 – 11, this is a great read. They will have fun. I remember reading this book and immediately handing it off to my little brother, who also loved it. It's a fun read.