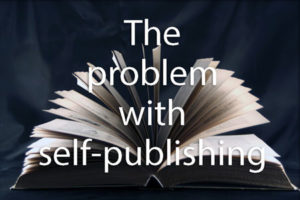 I have not, as a rule, used this venue to talk about work. I'm not really sure why that is. I guess I've always had enough room to express my thoughts about work on work blogs and websites. Not that those venues don't still exist, they do: rather, I think I want to say things that might be a little wilder than the stance my employer would take corporately. That's okay. Somebody's got to be wild and crazy, might as well be me?
So, disclaimer: These opinions are my own and are no reflection on my employer, other than that they continue to employ me. Thanks!
I plan to write four posts. I'll give you a taste of each today, then write one a week for the next four weeks. Then I'll see if I can find a few more things to write about.
What's the problem with self-publishing? Oh, there's about a thousand. Naw, that's hyperbole. If I told you once, I told you a billion times, stop exaggerating.
Here are four problems that jump straight to mind:
– Scams
I'll start here, because this could find a reader who thinks I perpetrate scams on unsuspecting authors. I don't, but the thing is, there are plenty of scams out there that prey on authors who want to self publish. Next week, I'll write a post explaining the most common ones, explaining the pitfalls and pros of working with self-publishing service providers, like the one I work for, and hopefully helping you navigate those waters safely.
– Education
I don't think you could read all the blog posts about self-publishing that will be published this week, this week. And half of them would be filled with bad information, or old information, or flawed information. But you wouldn't know which half. You could go get an MBA degree, but even that wouldn't get you to where you need to be in order to know everything you might need to know in order to run a publishing business successfully.
Let me tell you how I know that: I experience it every day. In one of the other parts of my life, I published The Green Ember. That's a traditional publishing imprint that I run at Story Warren. We launched way too close to Christmas, and getting Amazon's algorithm to acknowledge that we were going to move some books took way longer than it should've. We lost sales, undoubtedly. I should know better, if anyone could. It's hard out there for a publisher. 
– Time
Not many of us can take the time to write, to publish, to market, to provide value for our audiences, and work full time and be parents, and be involved in our churches / communities / World of Warcraft. There's simply too big a time burden to keep up with.
– Lack of marketing
 This is the biggest challenge to tackle. The reality is that many self-published books don't sell. The average book sells 100 copies. Obviously, that's not a rousing success. The harsh reality is that no one owes an author their readership. It doesn't work that way. How do we let them know that our book exists?

In spite of all that, it's a great time to be an author.
I believe that with all my heart. The world has never been smaller. It's never been easier for an author to find their audience. It's a great time to be an author.