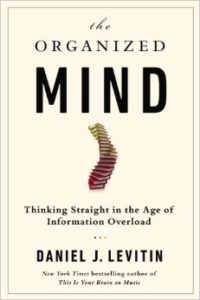 I'm reading The Organized Mind by Daniel J. Levitin. It's a good read so far, with lots of insight into both the power and limitations of our brains.
One of the things that I'm overwhelmed by is stuff. We live somewhere around the "average" American life here in Mackay-land. And yet, as Levitin points out, we consume and own more stuff than any household even 100 years ago would've been able to imagine.
It turns us into snobs and slobs, I think. Snobs in that we throw away things that would, in many cultures, still be valuable. I'm pointing the finger at me here, so let me expand: I'm the world's worst left-over eater. "Oh, that again?" I'll say. Or worse, I won't say it, but my wife will read it on my face. Either way, we end up cooking something else. Then, we're faced with twice the left-overs. As a result, food gets wasted.
The Mackay household 400 years ago? Back then, we would've been MacKays. I would've walked in from a day in the field and said, "What's for dinner?" My wife would respond, "Potato soup." I would nod sagely, knowing that it was a tough harvest, that our hens were only producing enough eggs for us, my ability to trade was severely limited, so it'd be potato soup all winter long.
And we would survive.
Snobs and slobs. Snobs because we can afford to throw it away. Slobs because we don't. Boy do I have stuff. I have chattel from college that is boxed up and consuming space. I don't know that I'll ever look at it again. We were going through some boxes and I came across a collection of cassette tapes. My kids had no idea what they were. But I still could only bring myself to throw out half of them. That's in spite of the fact that there is literally not a single cassette player in my house. We keep stuff that is of no use to us. Because we can. We have space. Heated space, even.
I'm spoiled, I guess, is my confession. The application of Levitin, to my life, (and granted, this is through a third of the book) is that I need to understand the impact of my lack of self-control and limitation upon my ability to function creatively and effectively. It's good stuff.