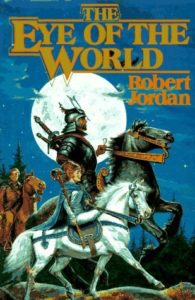 The Eye of the World by Robert Jordan remains one of my favorite reading memories. Although it was published in 1990, I was in my late teenage years when I first discovered it. It sticks out in my head as one of several completely satisfying reads during those years. (Dune, from last week, was another.)
The Eye of the World begins by introducing a cast of characters. I think that's what worked so well for me. It was one of my first experiences with a novel that had more than one protagonist. Robert Jordan's management of his characters feels quite deft in this first book. The story moves quickly, the world feels very big, and the characters we're following feel important, even when we're not sure how.
The Eye of the World is the first book in a fourteen volume series. The whole series weighs in at 4.4 million words, so this is an endorsement with a necessary caution: while this book is light on its feet, later books (especially around books 8 – 11) feel as though the characters feet are encased in concrete by comparison. While I love the series, my wonderful wife still hasn't made it all the way through, thanks to the series bogging down in the middle.
But, if you're looking for a fun read with a fast pace, The Eye of the World is one of my favorites.