It started on Facebook: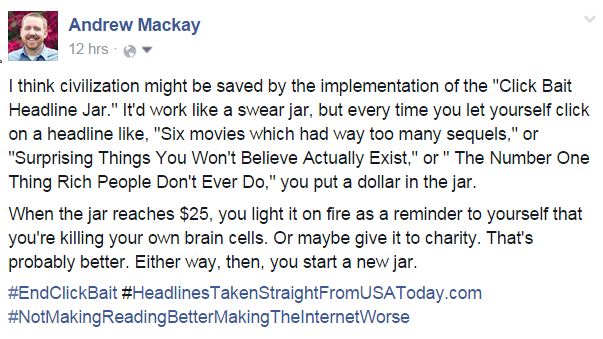 And then I decided to expand the thought
Because I think it's true. I think we might save civilization if we could band together and say no to click bait-y headlines.
It comes from a lot of reading — reading things that don't have click bait-y titles. Brain science stuff like Thinking, Fast and Slow, and The Art of Thinking Clearly, and The Organized Mind, and Blink. Combined with productivity stuff that talks about how we focus (like Getting Things Done, and What's Best Next, and many others)
The conclusion I'm coming to is that by constantly feeding ourselves dumb things with intriguing headlines, we're creating neural pathways and reinforcing them — and they point to "I like to read dumb things."
And listen, at my core, I like to read dumb things. But it's not good for civilization. We need to reach for better, right?
You can tell a lot about people by what they celebrate, what is "famous." Our cultural celebration of stupidity doesn't look good on us. What does it say about us that one of the biggest stories of the last week is a basketball player agreeing to a deal and then reneging, and the "hilarious" fall out on twitter? Or that among the presidential candidates for 2016, the ones currently getting the most attention are often political caricatures rather than decent human beings? What does it mean that we're more interested in celebrity gossip than producing something great?
I know the "save civilization" thing might play a little heavy. Maybe it's doing exactly what those headlines do.
Or maybe not. Maybe civilization that becomes obsessed with stupidity eventually becomes stupider. If that's the case — and I very strongly suspect it might be — then it's no joke.
So, go read something significant. Like What is Code or Understanding the Greek Debt Crisis. Whatever you do, please, if the headline is trying to drag you into reading something dumb, please avoid it. Or else, put some money in the jar.