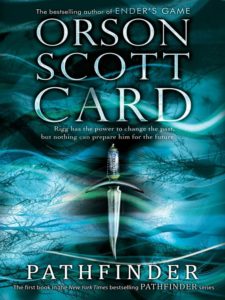 Pathfinder is a fairly recent (2011) release from Orson Scott Card. I'm surprised to find myself struggling to describe it, but I think it's because there's so much setup early in the book that I can't come up with anything that isn't a spoiler.
Here's what works about this book: there is both a system by which the world works that is intriguingly fun and characters who feel worth following. It's very much an ensemble cast of characters, so even if you dislike the protagonist (and I'll admit, at times I found myself annoyed with him,) there's enough about the other characters to carry you through.
Pathfinder is an excellent example of sci fi that crosses over into fantasy and then comes back. Or maybe it's fantasy that crosses into sci fi and then comes back. I'm not really sure. I know this: I couldn't wait for my wife to finish reading it so we could talk about it. Pathfinder definitely qualifies as a fun read.