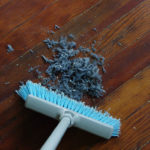 Entropy. It is happening to all of us. It is a fact of life. Stuff moves from working to not working over time.
I experienced this last week with my computer. It's the finest laptop I've ever owned (although there was that Macbook I had for work… but I digress). But, even at that, it decided to die.
I lost more than a couple of hours to the problem. In fact, as of this moment, it's not fixed. It's not fixed because, at it's core, there's a hardware issue that appears to be unrecoverable.
Things break. We get to decide how we manage those situations, but they're not going to stop. I experienced a great deal of frustration with my computer situation last week. And then I remembered that it's part of life. There's a mandate to subdue the earth. Some part of that is putting order to the disorder. So, next time something breaks and you work on it for hours, remember that you are simply doing your job. There is disorder. Give it order. There is dirt on the floor. Sweep it up. It is good work you do.